Our process is intentional.
From working with women coffee producers and roasters to ethically focused manufacturers, we choose our partners thoughtfully so that you get the highest quality product.
Ethically Sourced
We first source our decaffeinated coffee from women farmers and producers in Mexico and Columbia. Our mission is to support women in the supply chain and the incredible farmers who are challenging the status quo.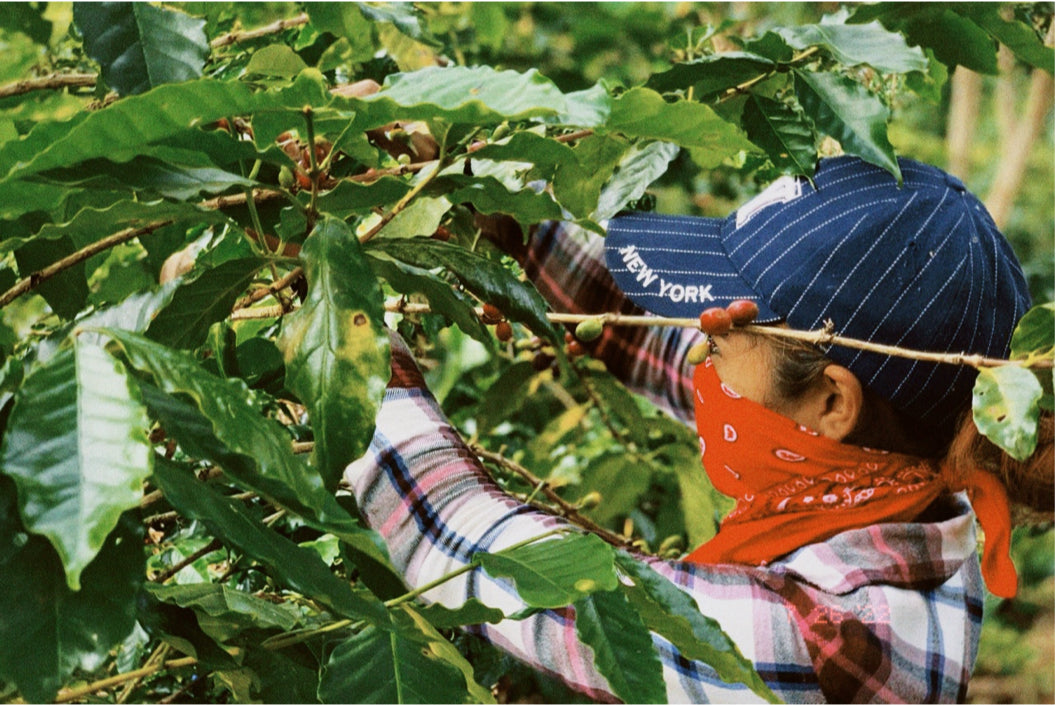 Roasted
Then we work with women roasters to roast our coffee at peak flavor, which extracts the richest, deepest flavor from each bean.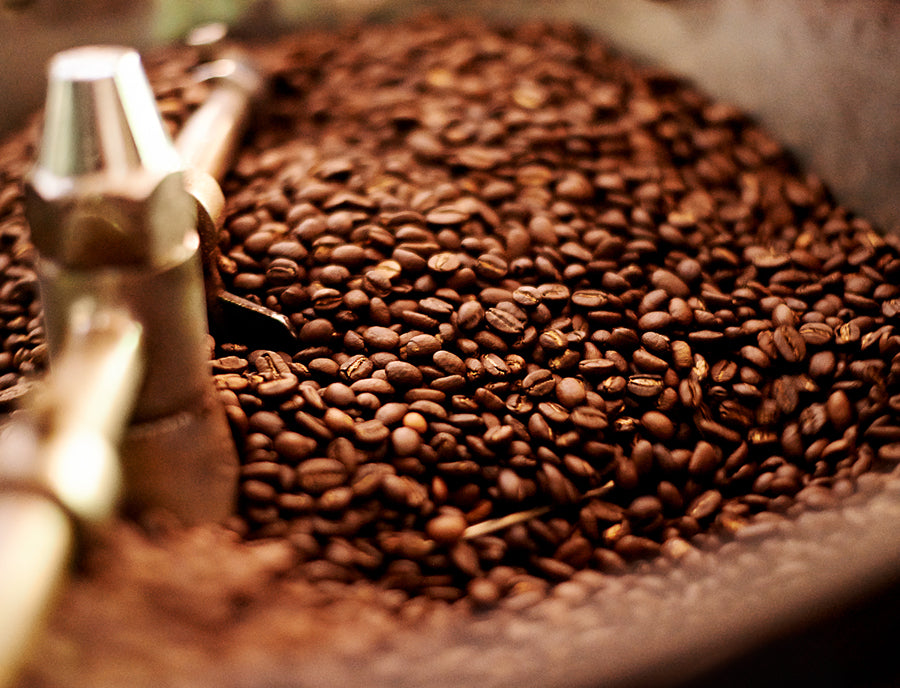 Brewed and Freeze-Dried
The coffee is brewed and freeze-dried, removing the water from the brewed coffee and leaving a soft, easily dissovable instant coffee.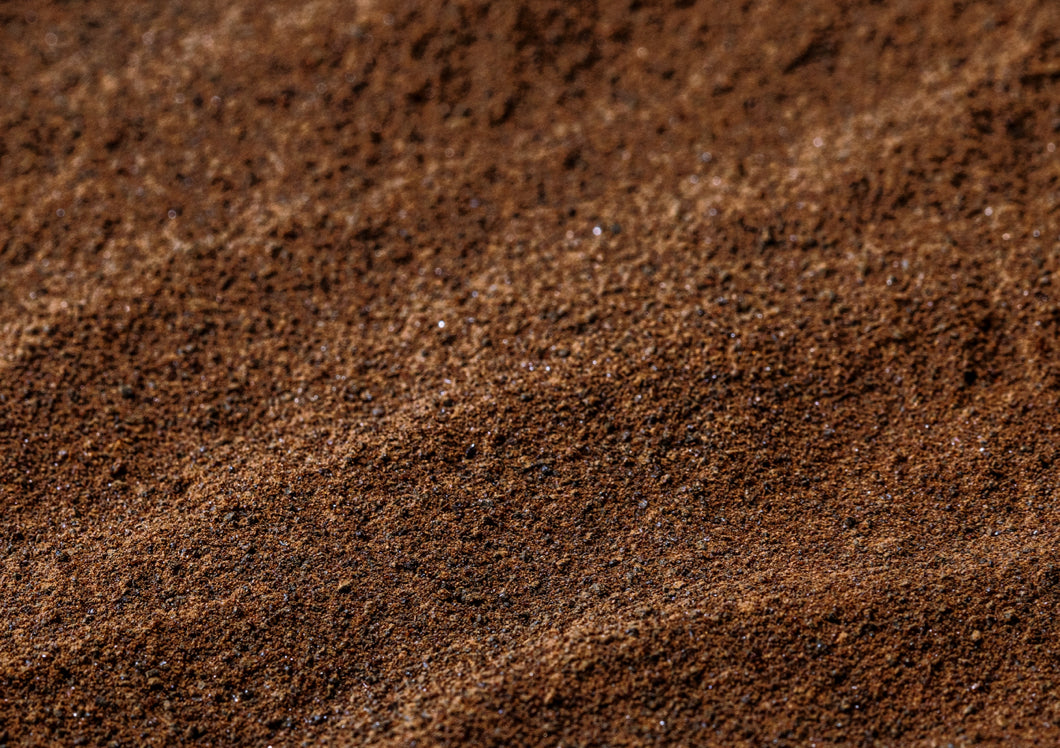 Mixed with mind- and gut-friendly ingredients
We infuse our instant uncaf coffee with simple, clean ingredients for a daily ritual that elevates your day and mindset, and supports your gut.

Packed with care
We pack each sachet and box with care in Brooklyn, NY.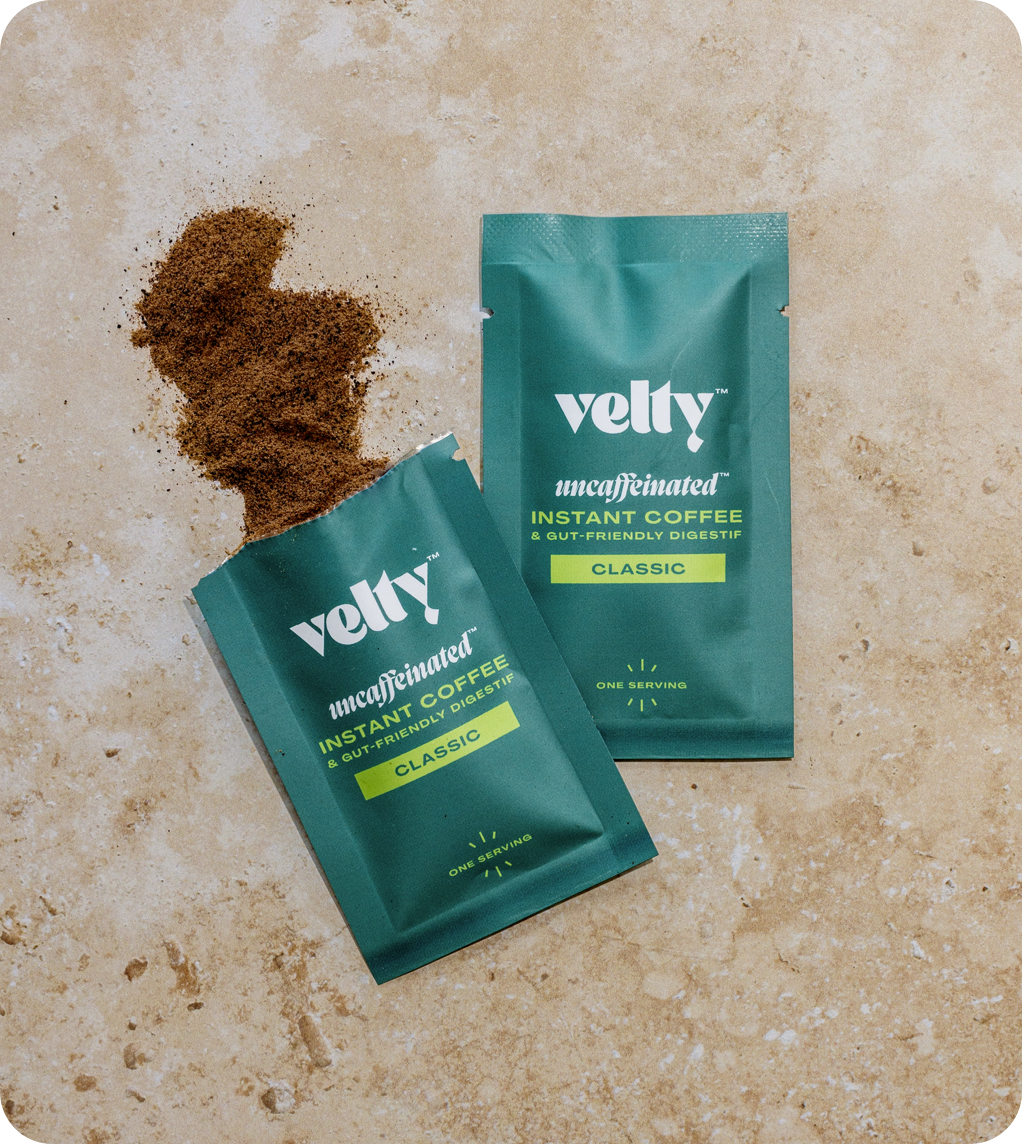 Delivered to you
Once you receive your Velty, activate your coffee grounds with water and watch your cup come alive.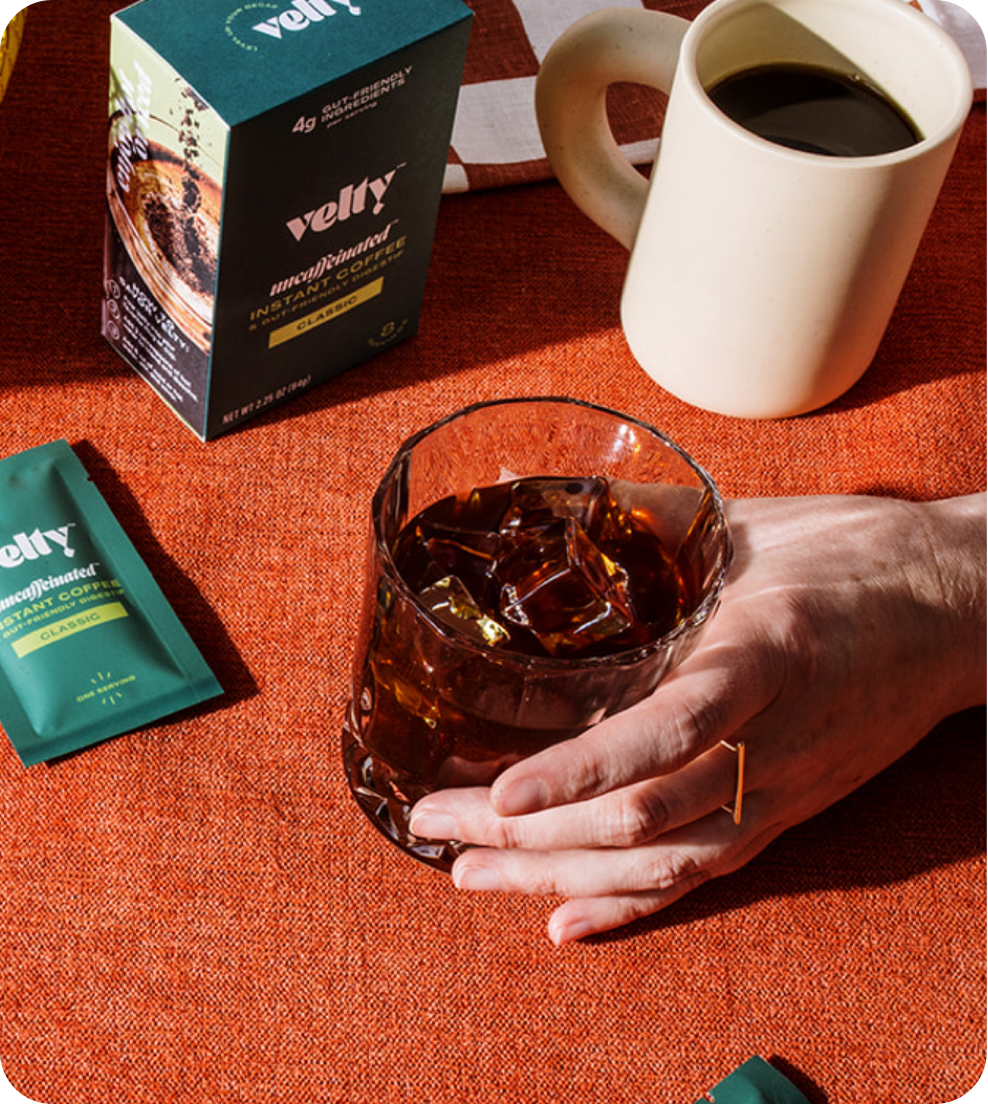 Our Ingredients
By adding in simple, clean ingredients along with our instant uncaf coffee, we've created a daily indulgence that makes your day better, through both the ritual of your daily cup and the herbs that support your system.
Mesquite

Mesquite powder has a mild, sweet flavor with hints of molasses, caramel, and chocolate, and offers mind- and gut-supporting benefits. Ours is sustainably sourced from the high desert plains of northern Peru.

Benefits

Great source of calcium, protein, and amino acids

High in fiber
Anti-inflammatory
Rich in antioxidants

Lion's Mane Mushroom

Lion's Mane Mushrooms are prized for their ability to enhance cognitive brain function. Ours add a rich, subtle earthy flavor to our blends and bring rich benefits to each cup.

Benefits

Reduce mild symptoms of anxiety and depression

Anti-inflammatory
Rich in antioxidants
Immune-boosting properties

Cinnamon

We use ceylon cinnamon from Sri Lanka, known as "true cinnamon," which is the purest type of cinnamon. Most commercial cinnamon has much less flavor or nutritional benefit since it contains much higher levels of coumarin. Ceylon cinnamon also has a more pleasant fragrance and mixes beautifully with the other adaptogens in our coffee.

Benefits

Powerful Antioxidant

Anti-inflammatory
Helps lower blood sugar levels

Ginger

Packed with potent antioxidants and anti-inflammatory properties, our ginger adds a nice kick to our Spiced blend. Much more than just a spice, ginger has powerful immune boosting properties that make it deeply healing and nourishing. It is known for easing digestion and reducing nausea.

Benefits

Powerful Antioxidant

Anti-inflammatory
Eases stomach pain
Boost brain function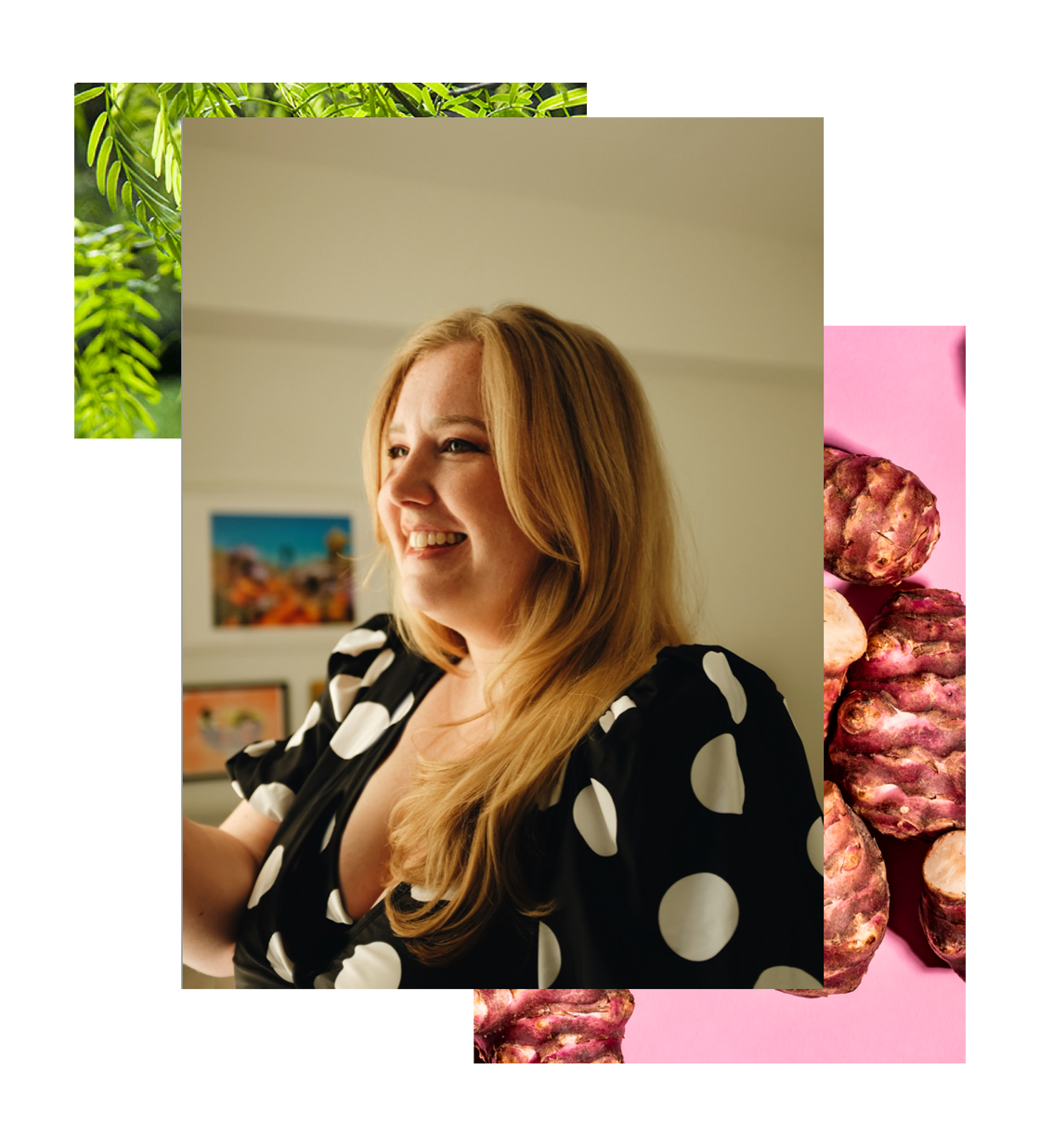 Sharon Taylor
After working as a Creative Director in New York, Sharon hit major burnout and was diagnosed with adrenal fatigue and soon after, ADHD.
This health diagnosis challenged her relationship with caffeine and it was clear she had to kick her addiction for her physical and mental health. Through this journey, Velty was born. She and her team are now on a mission to create an equitable coffee business, sourcing the best decaf, and working with women farmers and roasters.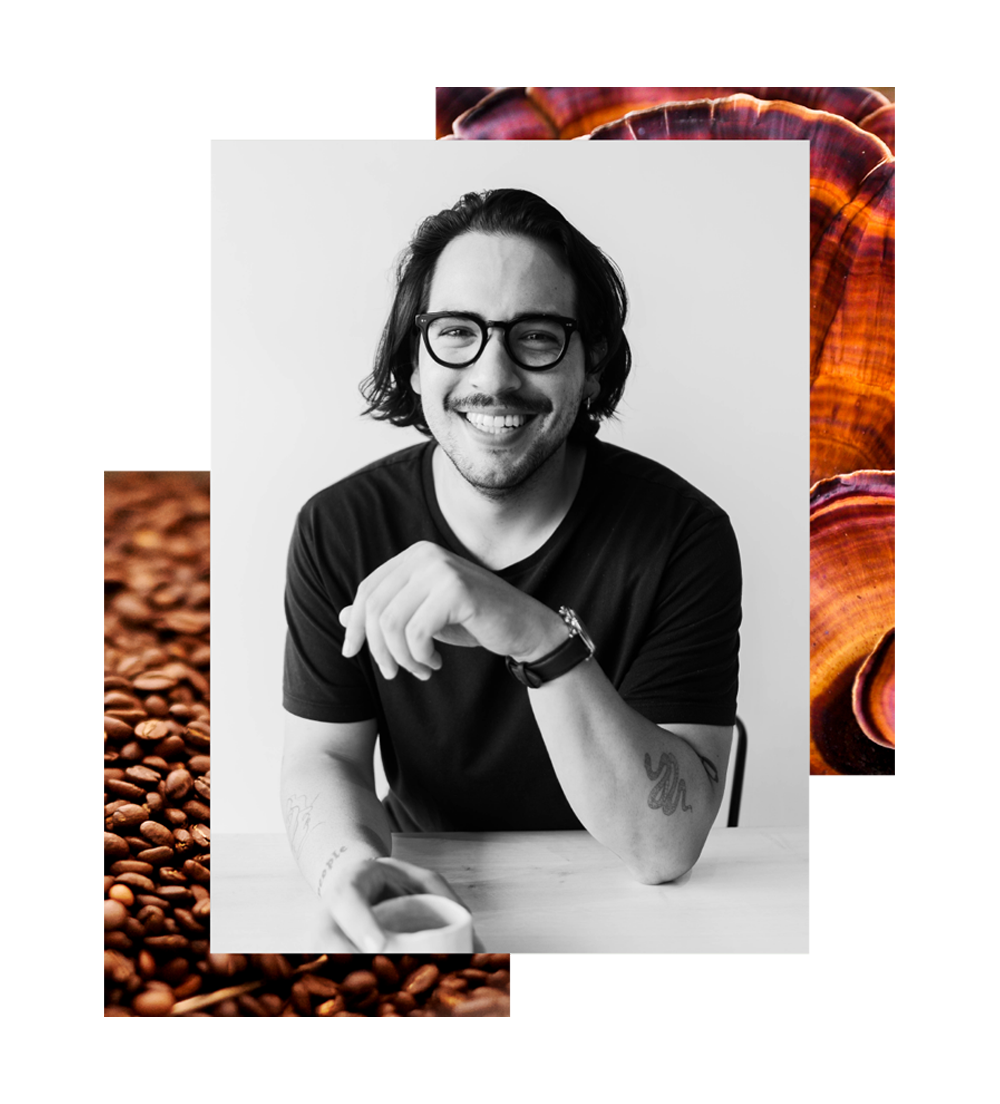 David Palazuelos
Having devoted his professional career to the specialty coffee industry, David is excited to continue exploring the horizons of coffee, but this time in decaf.

David was born and raised in Mexico, which has allowed him to make strong cultural connections with Latin American and Spanish-speaking farmers and producers whom will now be the foundation of Velty's women-produced decaf coffee.